Once you've created your account and logged in to Smart Revise, you'll see your dashboard. Assuming you're new to Smart Revise, this screen will currently be blank.

On the right-hand side, click the button labelled Try for free.


Next, choose a course from the available options.



From the left-hand panel, you can filter the available courses by subject, exam board and level of study.
When you have found the course you want to try, click the Try for free button.


You'll see a message letting you know that the course has been added, and it will now be showing in your dashboard.


Trial mode will remain active on your chosen course until a voucher for that course is purchased and assigned to your Smart Revise account.
You'll be able to try all the different modes:
Advance: Exam-style questions with a complete mark scheme.

Quiz: Endless, dynamic, personalised question playlists.
Terms: Digital flashcards to help you retain knowledge.
Topics are limited until a voucher is purchased, but you'll have plenty of content available while you get to grips with Smart Revise.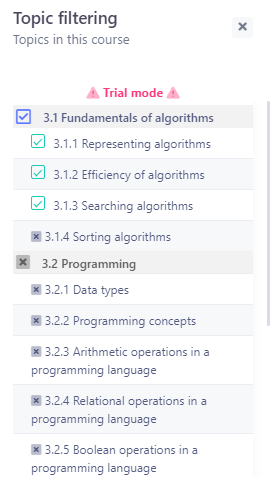 You'll know if you're still in trial mode, as a banner will be displayed across the top of the page.