How do I reclaim a voucher if a student has left my class / school so I can allocate it to another student?
As long as a voucher is still valid and has time remaining before expiration you may reclaim then and reassign them to different student.

There are 2 way to reclaim a voucher:
1. Accessing your Class and clicking "Reclaim Voucher".


2. Click on the your name in the top right of the page and select "My Vouchers" and "Manage Vouchers" for the course you need to reclaim a voucher for.

You will then see a list of the vouchers you have for a course along with which students they are assigned to.

You can reclaim a voucher my selecting the yellow "Reclaim voucher" button.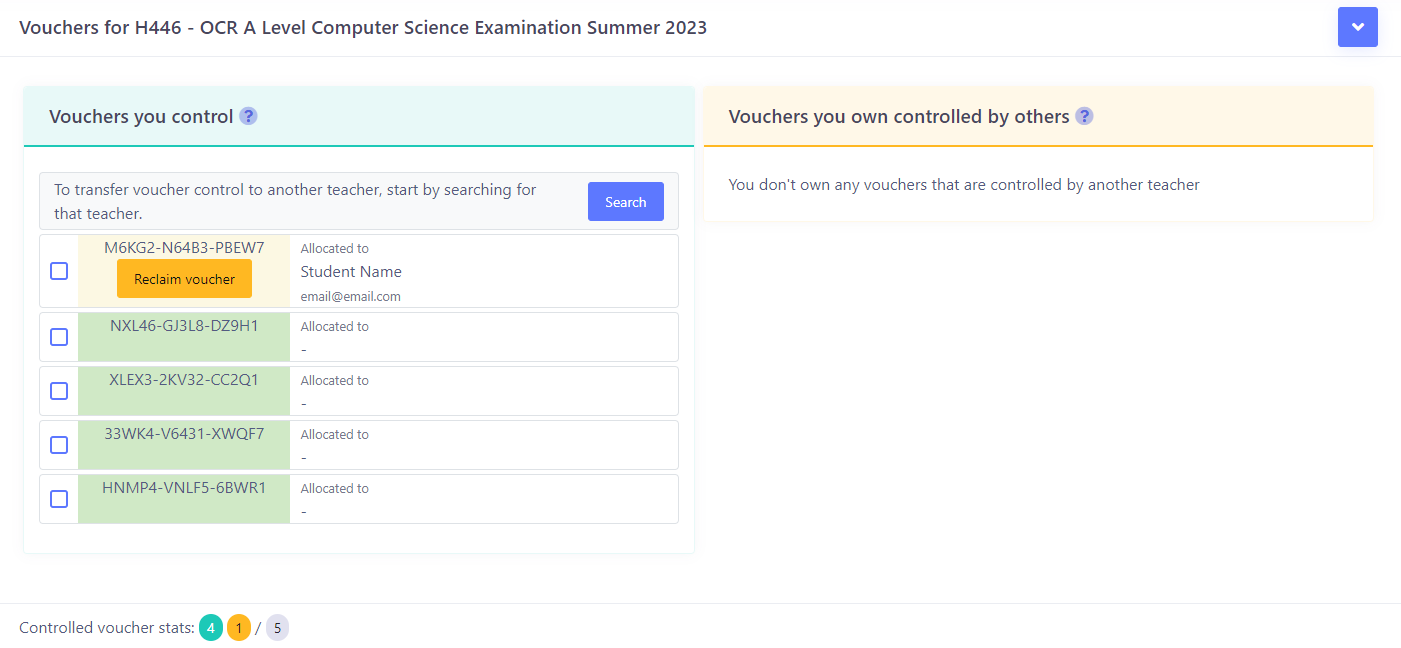 Related Articles

How do I allocate vouchers to my students once I have purchased them?

First make sure you have purchased some vouchers. Next create a class... ... and get your students to join your class. Once you have done this allocation of vouchers is a simple process: Select the appropriate course from your Dashboard. Select the ...

How do I get students to join my class so I can track their progress?

First make sure you have: Added a new course from your available list Set up a new class Students then need to have access to the course pack themselves. There are two ways they can gain access. Either they can purchase one privately You can ...

Extending an individual student's deadline

If you need to extend an individual student's deadline: Go to the "Course" Go to the "Class" Click "Tasks" Locate the student in the task you want to extend. Click on the dropdown next to the required student. Click "Extend Deadline" Choose the date ...

How can I see which students have used my voucher codes?

Select the drop down icon in the top right hand corner of the screen and choose "My Vouchers". Here you will see all the vouchers you have purchased for your various courses along with how many are still to be claimed by students. The vouchers ...

Returning a task to a student

If your student has submitted their task before they have finished you can return the task back to them if you have not committed the mark to the markbook. You simply: Go the the course Go to the class Go to the task Click on the arrow Click Return ...